Tonic Features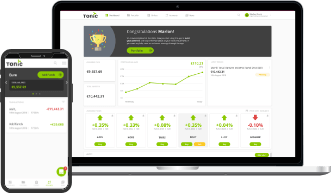 Investor Portal
Portfolio Management
Cash Movements and Balances
Tailored Data Feeds
Alerts
GDPR Compliant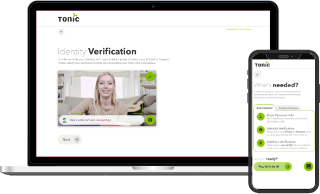 Client Onboarding
Customizable Offers and Data Entry
Intelligent Document Scanning
Face Recognition
Compliance Video for Verification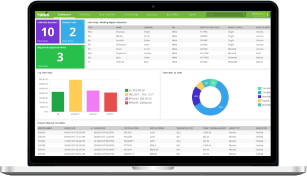 Back Office
Workflow Management
Wealth Management
Portfolio Management
Fund Administration
MIFID II Compliant
Have something more specific in mind?
Our Hybrid approach enables us to customize Tonic to your business needs.
Investor Portal
Omnichannel portfolio management
Full transparency 24/7
Portfolio P/L NAV and Benchmarking
Daily Portfolio Movement Report
Cash Movements, balances and accounts
Third party news data feeds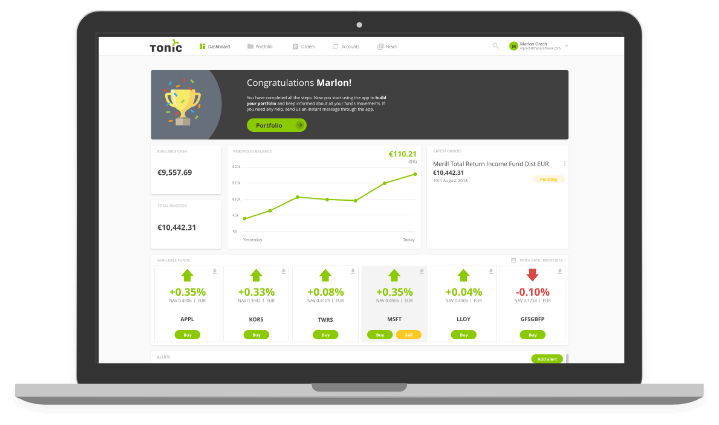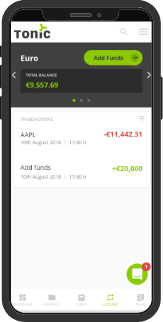 Robo advisory
AI enabled offer suggestions
MiFID II suitability testing
Relevant news to investors
Preference, Strategy & Risk Appetite trade propositions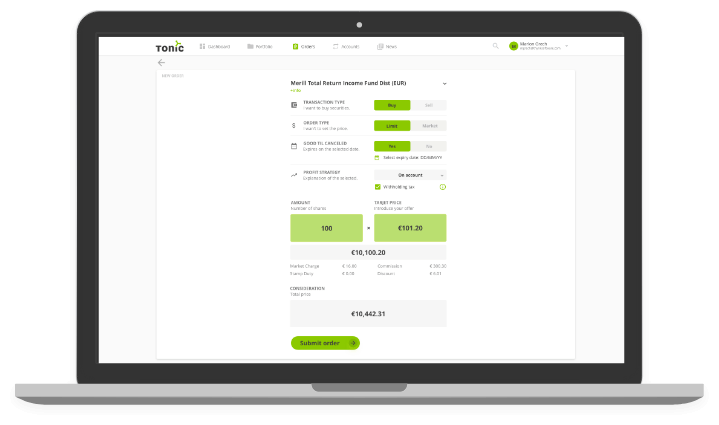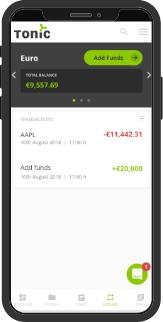 Tailored data feeds
Market and portfolio position notifications
Custom reports
News acticles
Research articles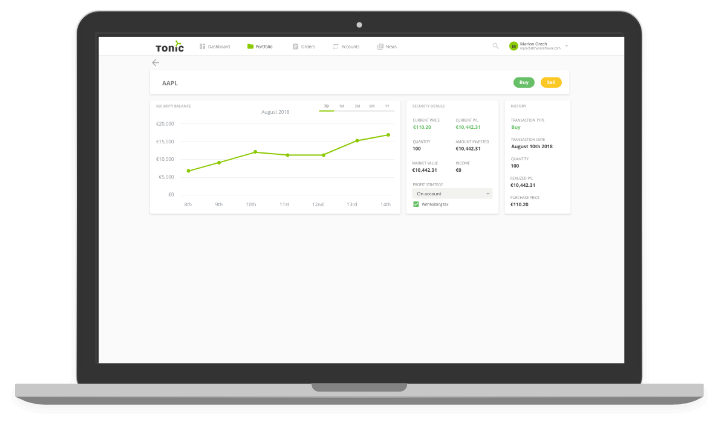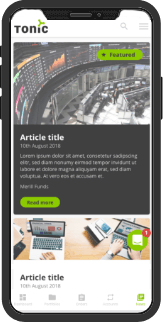 Client Onboarding
User friendly
Appealing design. Clean and modern user interface to guide the client through the step by step process.
Omni channel. Available on desktop, tablet and mobile with the option to switch from one device to another via QR code.
Help chatbot. A help function throughout the onboarding process.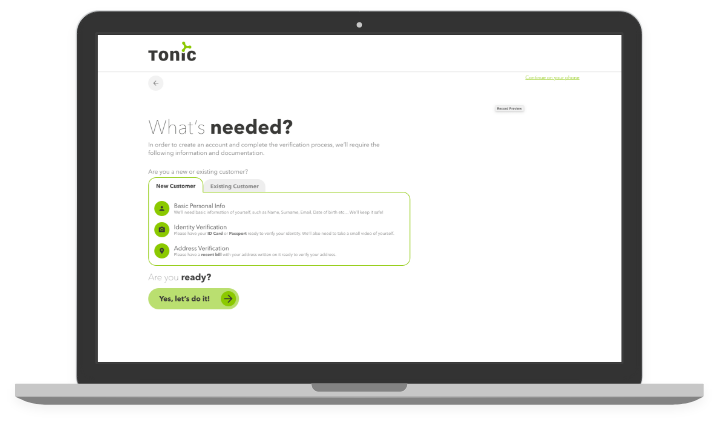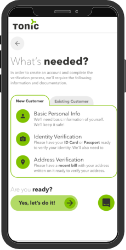 Customizable data entry
Details required are configurable according to the business needs.

Users can choose 2 styles from form data entry:

Classic form style: the questions would be displayed similar to classic signup forms.
Conversation style: the questions would be in a form of a conversation.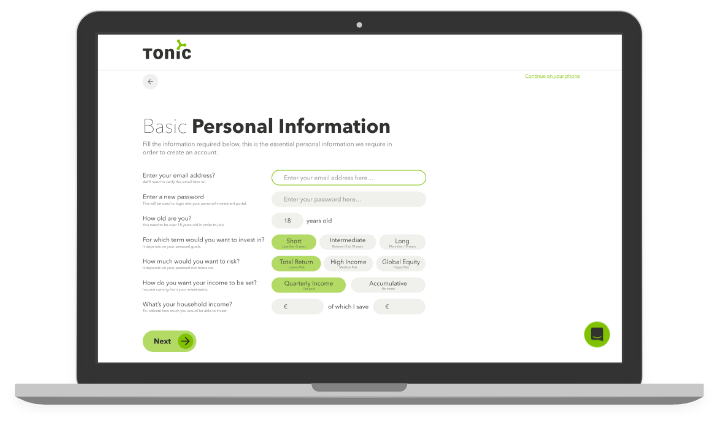 Customizable offers
Offers can be promoted in the form of text/image/video.
A full document can also be attached to respective offering for clients to download.
More than one offer can be chosen by a client during the onboarding.
All text, data entries and offers can be modified by the Tonic backoffice onboarding CMS.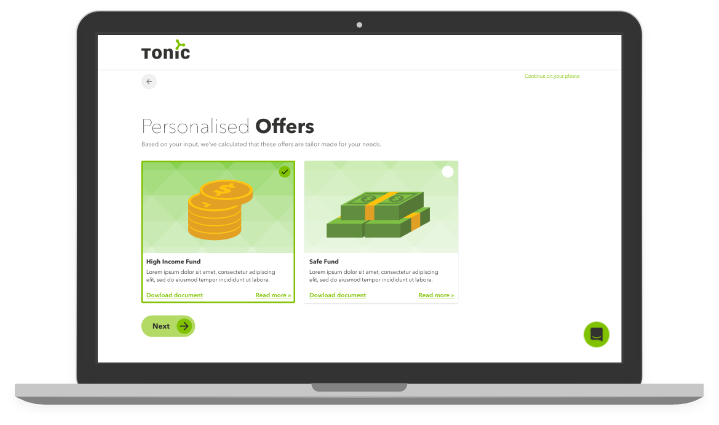 Intelligent document scanning
Documents and address are scanned and information is automatically extracted for the client to confirm, rather than clients having to manually enter details.
The list of documents supported for verification purpose is configurable: ID Card, Passport and/or Etihad Credit Bureau.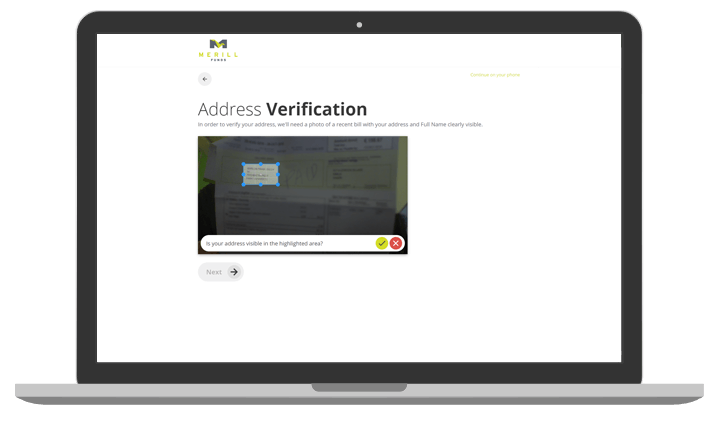 Face recognition photo / Compliance video for Verification
The client is asked to take a selfie that is compared with the verification document photo presented.
A confidence score is then presented in the backoffice for compliance to review.
A video session of this process is recorded for compliance reasons and is available for compliance to verify.
Optionally one can configure the onboarding journey to also include a video call with a back office agent for extra verification.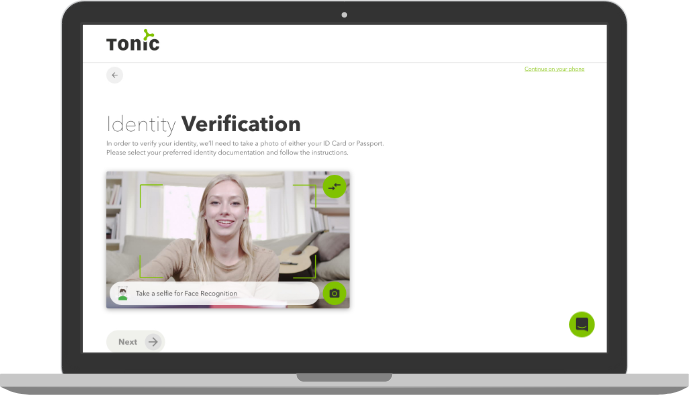 Onboarding Back office
The complicance officer will have access to the document verification process whereby the video recorded session during the process can be played. The verification process also extracts verification statistics in relation to the face recognition.
The complicance officer can also review the offering that the client opted for and the advanced information of respective onboarding application.
A configurable workflow is set for each onboarding type so that each instance goes through the appropiate onboarding flow. This also supports automation to third party systems such as CRM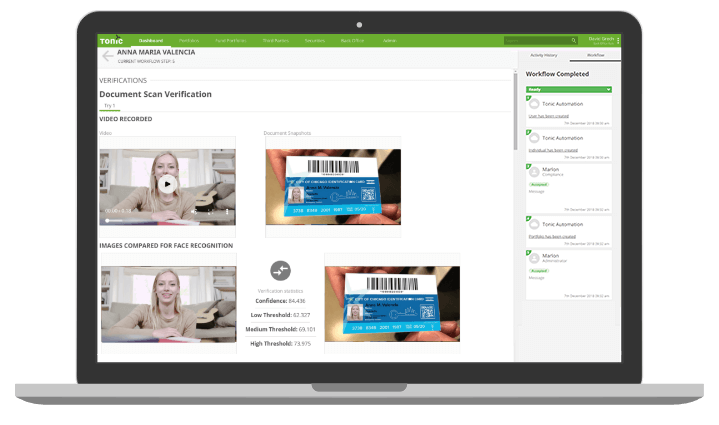 Back office
More than just a PMS
Wealth management oriented CRM
Smart data entry of individuals, companies and portfolios.
Compliance workflow to approve accounts.
Dynamic computed business risk assessment.
Document expiration triggers.
Open API which enables you to hook to other CRM systems..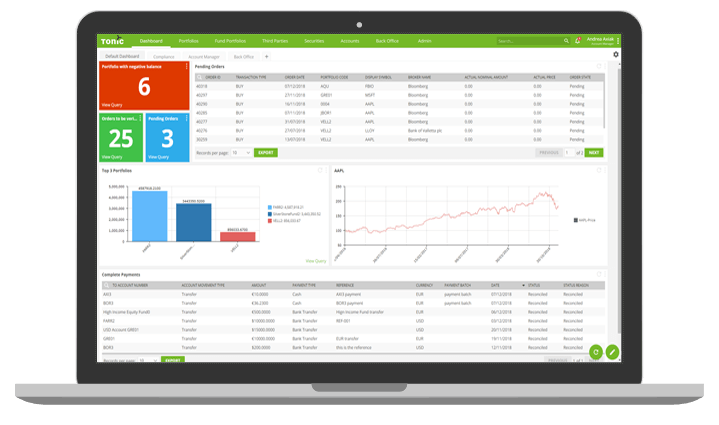 All in one PMS
Portfolio valuations and NAV Reporting
Order Management Workflow with complaince at it's core
Open API which enables you to hook to trading APIs and prices data feeds.
Corporate action execution and management
Automated alerts for market changes
KPIs to deliver insight on portfolio manager performance
MIFID II transaction reporting
MIFID II Ex-Ante / Ex-Post reporting
Management and Reconciliation of Trailer Fees
Simplified Fee accruals and posting management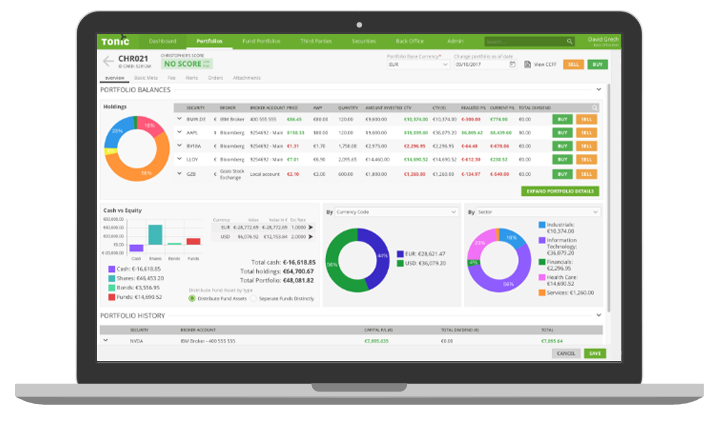 Tailored data feeds
Configurable accounting rules
4-eyes-principle for cash reconcilations
Bank Reconcilation automation through bank statement upload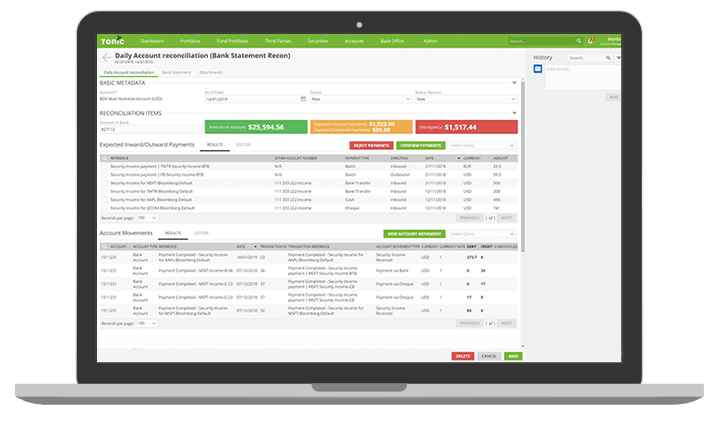 Content Management
Hook any third party data feed to manage content for your professionals and also your investors.
Publish research articles to your clients
Configure actions to be displayed on certain articles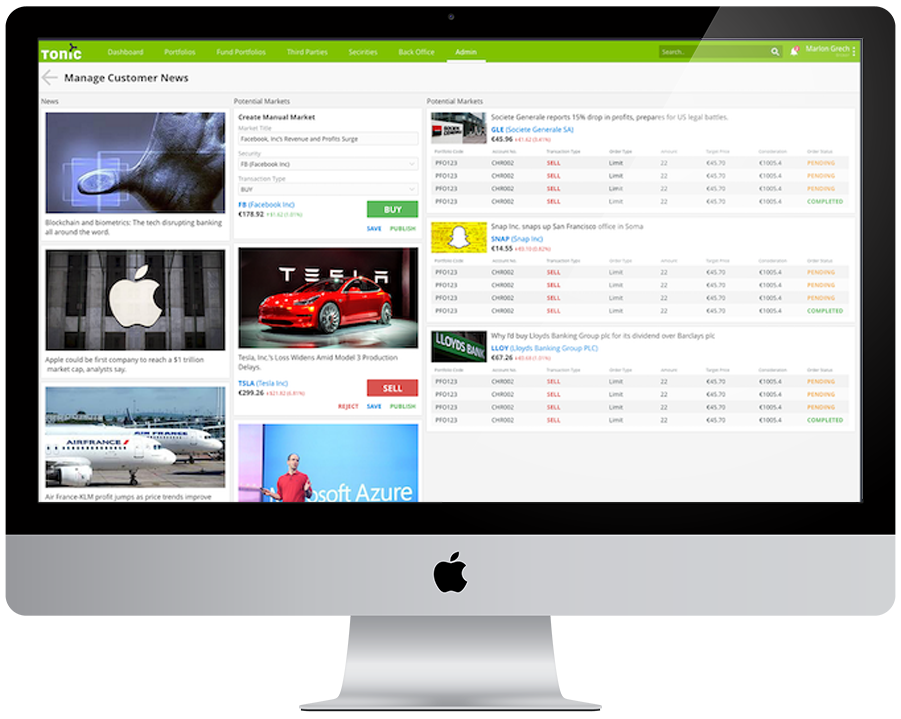 Flexible dashboard
Users can choose widgets to visually show any data, and set their own queries to configure the source and any filtering criteria.
The framework supports the development of new widgets as plugins for custom widgets.
Tonic also supports the concept of global Dashboards, whereby an administrator can configure dashboards and allocate these to one or more roles.
Configurable alerts on any dataset.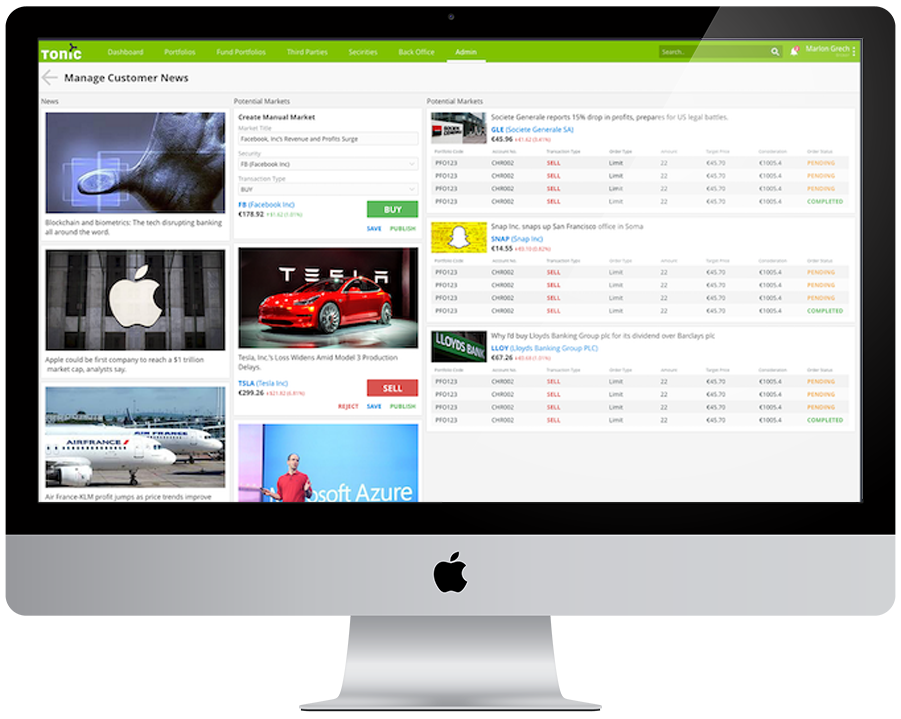 Portfolio analysis
Efficient frontier generation
Value at Risk and portfolio ratios
Composite Benchmarking capabilities
Simulating new holdings for risk analysis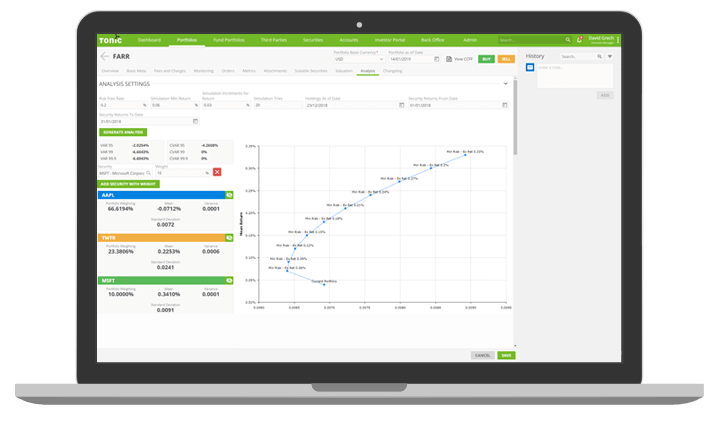 Get in touch
No binding obligations, no commitments